By J. Keith Wilson, Freer Sackler Galleries of Art on Tue, 05/13/2014 - 08:03
Although it now lacks its head and hands, this standing image of a Buddha is still impressive.
When first approached by the Smithsonian's Digitization Program Office, I thought this sculpture would be a perfect candidate for three-dimensional scanning. Indeed, with the development of the Smithsonian 3D Explorer, produced with the assistance of Autodesk, and armed with a range of imaging techniques that I can use to enhance the clarity of the object surface, I am sure that I am able to see things in the 3D model that previous researchers could not through direct study of the object, rubbings, or photographs.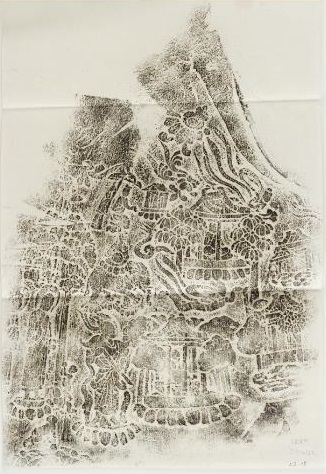 What makes the sculpture truly remarkable is the dense decoration that covers its surface. When first carved in north China in the late sixth century, the scenes may have been embellished with paint, which would have made them easier to discern and understand. In more recent times, decades of study by a number of researchers in China, Japan, and the United States has identified the specific content of many of these scenes and linked them to the religious texts that were their inspiration. Most significantly, a series of scenes running from the neck to the feet on the front of the Buddha illustrates the Realms of Buddhist Existence, a conceptual map of the cosmos associated with Vairochana, the Cosmic Buddha, the presumed subject of the sculpture. Numerous questions remain, however, since some of the other units wrap around the figure making them more difficult to examine and decipher.
The 3D model facilitates a more detailed mapping of the sculpture's surface. The scan in the 3D Explorer is also a useful tool for sharing research, since source materials, related illustrations, and interpretation can be attached to relevant portions of the image through "hot spots." Not only suitable for clarifying Buddhist content, the new tool also encourages fuller study of the composition of the narratives which reveal the amazing sophistication of Chinese story illustration and spatial illusion.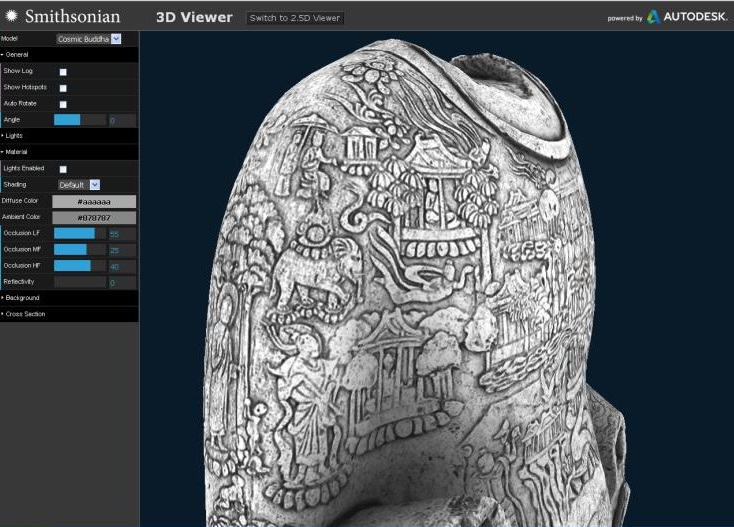 Since the 3D Explorer website is very user friendly, I can easily continue adding interpretive content reflecting my on-going research conducted in association with Janet Douglas, a materials scientist formerly at the Freer|Sackler. We are also planning a symposium on the sculpture that will make use of the 3D Explorer. The research presented at the scholarly meeting will ultimately be added to the site to inspire new cycles of study of an object that deserves generations of examination and scholarship.
J. Keith Wilson
Curator of Ancient Chinese Art
Freer Gallery of Art and Arthur M. Sackler Gallery, Smithsonian Institution
Buddha Vairochana (Pilushena) with the Realms of Existence
China, probably Henan province, Northern Qi dynasty, 550–77
Limestone with traces of pigment
Freer Gallery of Art
Purchased for the Gallery on Christmas Eve 1923 from the Chinese dealer Shanfang Taku, Beijing
F1923.15