By Jessica Warner and Ken Rahaim, DPO on Mon, 06/06/2016 - 14:37
In the previous blog post in this series (DPO Mass Digitization at the Smithsonian: Physical Workflow), we looked at the ins and outs of moving the National Museum of Natural History Department of Botany's (http://botany.si.edu/) botanical specimen sheets from storage to the imaging station and back again.  Now let's take a look at the imaging workflow. While the particulars of any DPO-managed mass digitization project will vary according to the unique requirements of the collection(s) being digitized, the workflow remains basically the same.
The imaging workflow design process is divided into four parts:
1.    Object Driven Image Fidelity (ODIF) Analysis
2.    ODIF Validation
3.    Image Processing
4.    Object Movement (pre- to post-digitization staging)
In this blog post we'll focus on the first two steps—Object Driven Image Fidelity Analysis and Validation.  In Step 1 of the Digital Imaging workflow we measure the smallest physical detail to be recorded as determined by museum staff and DPO.  In Step 2 we validate the specifications determined in Step 1, and document them for validation during digital capture and post-processing.
Step 1: ODIF Analysis
An essential part of the imaging workflow is the ODIF analysis.  Using a microscope we determined that spores in the 40-50 micron range which were identified by collections experts were the smallest details necessary to be resolved (Image 1--click image to zoom in).  This measurement translated into an SFR (aka resolution) of approximately 565ppi.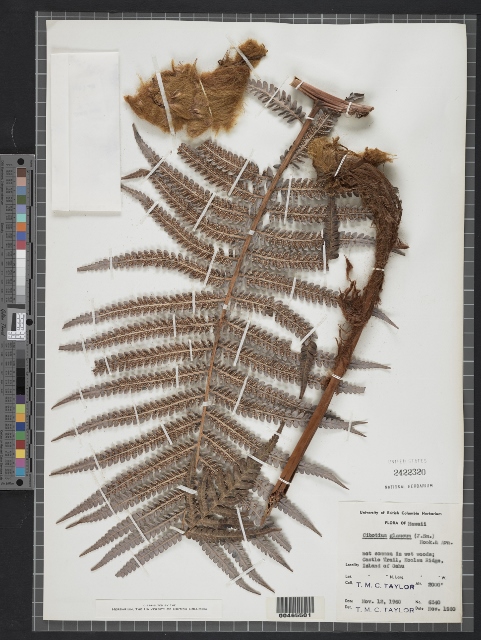 Images with insufficient detail make for an unsatisfying and limiting online experience for the public and researchers alike.  On the other hand, capturing at an excessive resolution taxes our storage and network infrastructure unnecessarily. And when you're digitizing millions (and millions!) of objects like these botanical specimen sheets that makes a huge difference to the bottom line.  Just like Goldilocks, at the DPO we want the image resolution just right! 
Step 2: ODIF Validation (and Documentation)
In order to ensure that we're achieving the optimal resolution for any DPO-managed projects, we go through a rigorous validation process.  ODIF validation begins with collections staff identifying a representative sampling of the collection that contains the smallest details.  Next, we mock up an example collections object on the imaging stage (in this case a copystand, see Image 3) to confirm ODIF requirements for a given field of view.
In the Botany project, our specimen's dimensions are 11.5" x 16.5" shown in this mockup (Image 2). To capture the specimen as well as provide for some margin of error for specimen placement, our field of view measures 13.25" x 17.625". The field of view is constrained by the vertical dimension such that object-level target is oriented on a gutter that is 1.375" on the horizontal axis outside of the object's reserved space. For ODIF validation, a device level target is oriented in center of the field of view.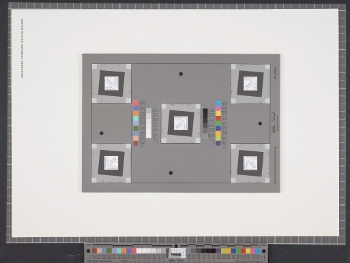 NMNH Botany Project: Image 2 – Mockup field of view w/ Golden Thread test targets 
Camera – Phase 1 IQ180, 80MP Medium Format Digital Back

Body – Digital Transition RCam

Lens – Schneider-Kreuznach 72mm f/5.6 APO Digitar

Camera settings:
Shutterspeed: 1/60th

ISO: 100

Focus: Otto
Copy stand – Kaiser Fototechnik; 31.5" x 23.5" tabletop and Kaiser rePRO RSP column

Lighting – 2 x 500 watt second monoblocks w/ 1' x 4' softboxes oriented as pictured below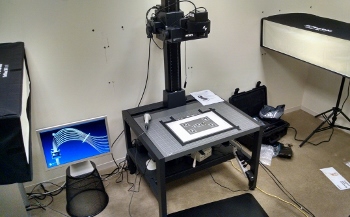 NMNH Botany Project: Image 3 – Test Imaging System 
Results:
While we discuss resolution in detail, color reproduction, tonal response and uniformity are also validated, documented and specified for every project we do.
SFR (aka resolution)
The test results for the above imaging system resulted in an average theoretical SFR (aka resolution) of 603 ppi (with no sharpening applied). This equates to a resolvable physical value of 42 microns.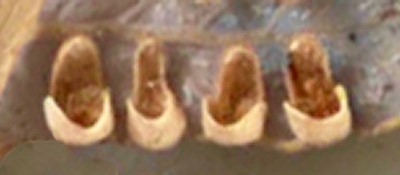 NMNH Botany Project: Image 4 – 42 micron detail of 00465501 Cibotium glaucum spores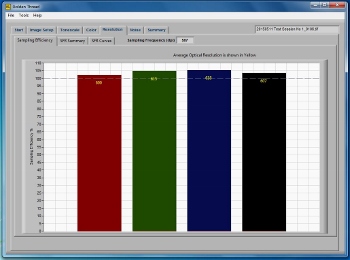 NMNH Botany Project: Image 5 – Golden Thread Analysis Average Resolution Results 
Edge to edge sharpness showed no objectionable falloff or imbalances, and SFR curve shows no additional sharpening applied.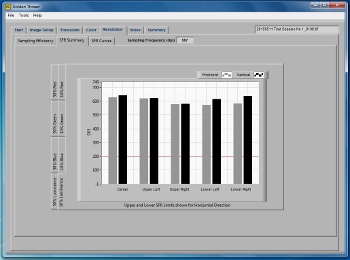 NMNH Botany Project: Image 6 – Golden Thread Analysis Falloff Results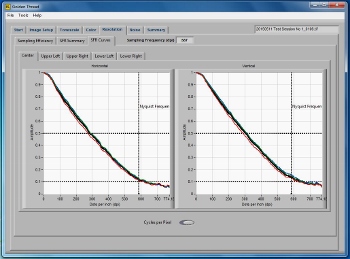 NMNH Botany Project: Image 7 – Golden Thread Analysis SFR Curve Results 
Delta E (aka Color Accuracy)
The average delta E 2000 result for the 18 measured color patches was 1.89 with the worst result being 2.8 and the best being 1.25.
In particular, color patches 1 & 2, which most closely reflects the gamut of the specimens, had a delta E value measured at 1.25 and 2.5 respectively.  Any result under a delta E 2000 measurement of 3 or less is acceptable.
NMNH Botany Project: Image 8 – Golden Thread Analysis delta E 2000 results 
Density (Tonal response)
Tonal response for the 10 density patches measured accurately for documented values of test target.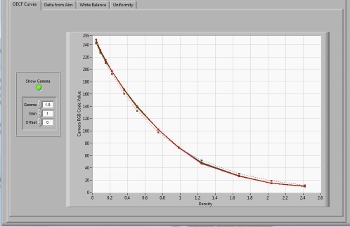 NMNH Botany Project: Image 9 – Golden Thread Analysis OECF Curve Results (1.8 Gamma) 
Uniformity peak difference was an acceptable 1.77%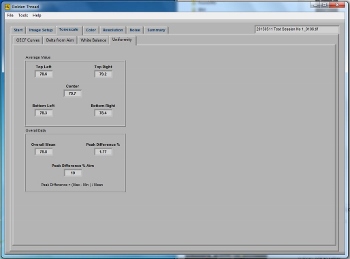 NMNH Botany Project: Image 10 – Golden Thread Analysis Uniformity results 
The ODIF analysis, validation and documentation results in a project-specific imaging standard by which we measure capture quality for all DPO-managed mass digitization projects at the Smithsonian.  Our process ensures that fine specimen or object details are resolvable for remote researchers to do meaningful work with collections—even if they are half a world away!
Stay tuned for our next post where we'll get into steps 3 & 4 of the Imaging Workflow: Image Processing & Object Movement.