By Dr. Kathleen Franz, Chair of Work & Industry and Curator of Business History at the National Museum of American History on Mon, 03/29/2021 - 16:17
Dear Reader
This 3D fashion digitization project grew out of the recent exhibition, Girlhood (It's complicated) that opened at the National Museum of American History in October 2020 and travels the U.S. beginning in March of 2023. The exhibition commemorates the 100th anniversary of woman suffrage by exploring what it has meant grow up female in the United States overtime and through five areas where girls have had a voice: education, work, wellness and fashion. Part of the larger Smithsonian's American Women's History Initiative, the exhibit argues that girls, like the women who fought for suffrage, have had public lives and have used their voices to change in American history. You can learn more about the exhibit at https://americanhistory.si.edu/exhibitions/girlhood-its-complicated
Fashion played an important role defining girlhood in the United States and it has served as a material way for girls to talk back to authority, define their own identities, and redefine girlhood. Historically, girls and young women used fashion, particularly in the twentieth and twenty-first centuries, to challenge the status quo, to call for more physical freedom, to upset authorities, and to, sometimes, advocate for political and social movements. A garment or a style can often speak louder than words.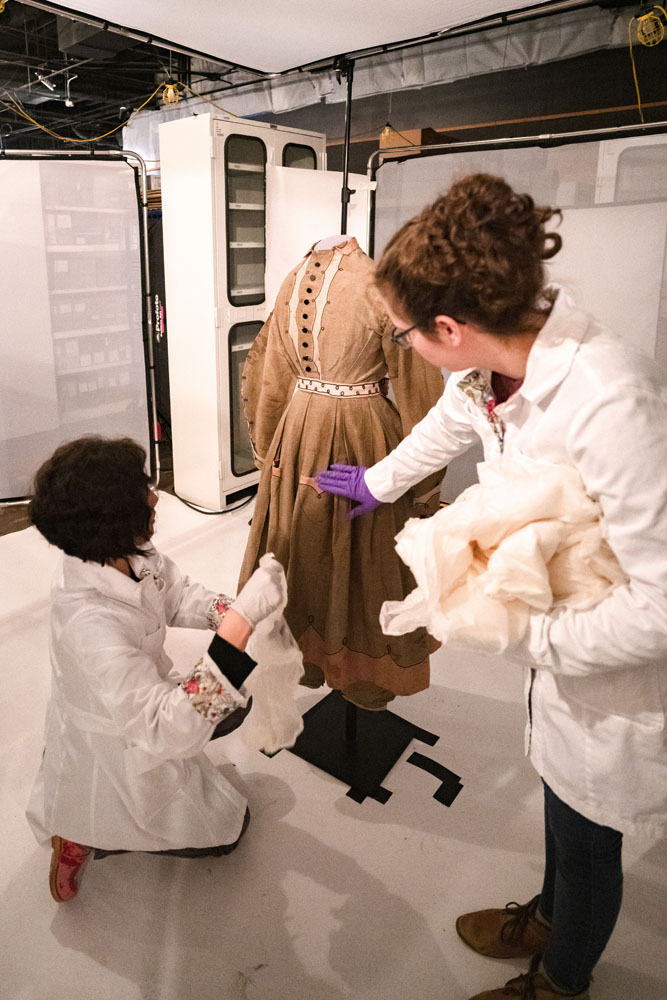 (Conservation staff preparing a gymnasium suit for 3D capture)
Over two years, the curators, collection manager, and conservators for Girlhood mined the deep and extensive fashion collections at the National Museum of American History.  We worked with the Smithsonian Digitization Program Office on an experiment to give you greater access to the fashion in Girlhood, that we hope can be applied to the larger costume collections at the Smithsonian. Digitizing clothing was new territory for all of us – the curators, conservators, collections manager and the digital programmers! We learned a lot and are so happy that you, the viewer, can now take a closer at the clothing in ways not possible in an exhibition! We encourage you to play around with the objects and explore all the links. Give every object a spin to see what it reveals! You'll hear from curators about the design and history of the objects. You'll also see notes by costume and textile conservators about the preservation of these very delicate things. 3D digitization not only gives you more opportunities to see things, but it extends the life of these objects.
Thank you for exploring!
A note from the 3D team:
You can now explore all of the Girlhood 3D models in augmented reality! Visit a 3D garment from the collection on your mobile device and click the "AR" button in the top left corner. Read more about the Smithsonian and AR here: dpo.si.edu/blog/voyager-ar