By Jamie Cope on Tue, 11/24/2020 - 12:42
The DPO 3D team is excited to announce the test launch of new 3D augmented reality (AR) experiences within Voyager, our web-based 3D model explorer. Now you can drop a full-sized mammoth skeleton into your backyard or view a statue of George Washington in your living room! Visit any of our 10 beta AR experiences from your mobile device and click the AR button in the upper-left corner to give it a try.
How does it work?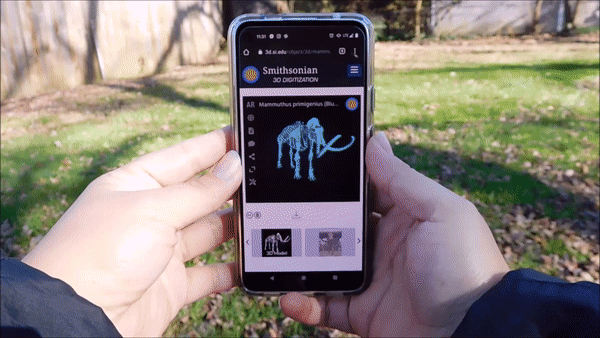 1.   With your mobile device, tap on a object in the AR collection
2.   Then tap on the AR button on the top left
      You may be prompted to allow the browser to access your camera. This is so we can show the object in your space. No images are saved or sent back to us.
3.   You'll see a prompt to wave your phone around. This allows your device to scan the environment and find a suitable area to place the AR object.
4.   Once the AR object is placed, have fun with it! Depending upon your device you may have an option to take a picture or record a video of the Smithsonian object in your home. If you do not see that option you can always take a screen-shot. Use standard mobile gestures like drag or pinch/zoom to move, rotate, or scale the model.
5.   Share your image or video with us on Twitter, Facebook, or Instagram!
Tips & Troubleshooting:
If you don't see an AR button as shown above, this means your current browser doesn't support our AR experiences. Please try updating or changing your browser and try again! If available, Google Chrome currently supports the widest range of AR features.
All of our AR models are at 1:1 scale, so for larger objects like the mammoth or an aircraft, you will be better off placing them in an outside area instead of a smaller room.
If you have any technical issues please let us know so we can improve upon these experiences! For issues/ bug reports please contact us at OCIO-DPO@si.edu or through social media linked above.
Technical Info:
Displaying interactive 3D models on the web has been standardized for many years, but the standards for browser-based AR are still evolving and being implemented by developers. We have created our core experience in WebXR, an emerging web standard that we hope will become more widely adopted. For now, we also support the launch of native Android and iOS AR apps to expand the audience that can experience our AR scenes.