By Jon Blundell, DPO 3D Imaging on Thu, 05/08/2014 - 14:23
On April 15, 2014 sixteen wooden crates containing the Nation's T. rex arrived at the National Museum of Natural History from Montana. While the curators are carefully unpacking the crates, and performing a condition evaluation, the Smithsonian X 3D scanning team is making digital models of the bones. We are using handheld 3D scanners to capture high-resolution surface and color information from each bone. We're scanning the entire T. rex, so it will take time—there are more than 200 bones and the T. rex requires careful handling.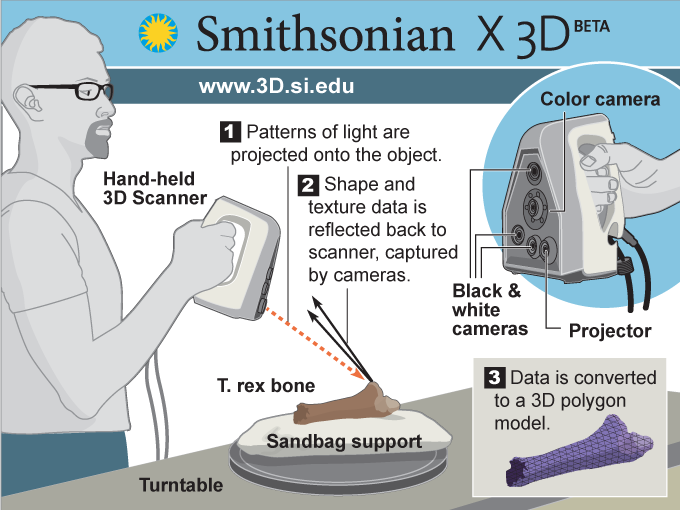 There are three basic steps to creating 3D models from the T. rex fossils. 1) While the data is captured by the 3D scanner, it shows up on the computer screen in near real time - this helps us track the progress and ensure thorough coverage of the scan. 2) Next, software is used to align the scans, clean up the color and geometry information and 3) finally, a 3D model is created—an accurate replica of the object.
What can you do with a 3D model? Models can be used for 3D printing in schools and provide new ways for the public to experience the Smithsonian through our online 3D Explorer (found at http://3d.si.edu/).  3D data also gives researchers new ways to analyze collection objects. The paleontologists will use 3D models of the bones to help put the T. rex back together. The new dinosaur exhibit will open in 2019, and in the meantime, visit us at www.3D.si.edu.