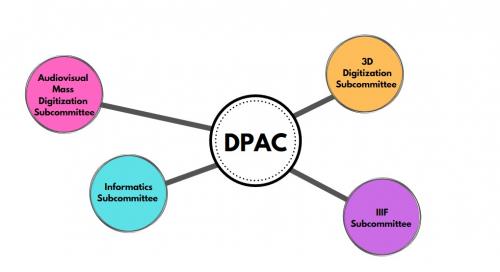 Digitization Program Office Advisory Committee (DPAC)
Members advise the DPO about its programs and plans. Members serve a three-year term, and are drawn from across the Smithsonian, representing all units and every type of profession that exists across the Institution. In 2018 we said goodby and thank you to the following members who completed their terms:
- Sarah Stauderman, HMSG
- Keri Thompson, SIL (now with OCIO's Research Computing Office)
We also welcomed the following new members, who will serve until 2021:
- Stephanie Norby, SCLDA
- Carolyn Royston, CHSDM,
- Keith Wilson, FSG
DPAC also is home to a number of special interest subcommittees, led by DPO staff or DPAC members. These subcommittees operate as working groups to help us explore topics or take part in projects that require specialist knowledge. In 2018, the following subcommittees were in place:
Audiovisual Mass Digitization Subcommittee (Jessica Warner, Chair)
To learn what local peer institutions are accomplishing with AV/film digitization, members of the Subcommittee visited National Public Radio's Research, Archives, and Data team, and the preservation labs for audio, video and film collections at the Library of Congress Packard Campus in Culpeper, Virginia and at the National Archives and Records Administration facility in College Park, Maryland. The Subcommittee also provided extensive input into the DPO audiovisual mass digitization pilot project.
3D Digitization Subcommittee (Vince Rossi, Chair)
The Subcommittee publicly launched the first Smithsonian 3D Metadata Model, produced by the Subcommittee's 3D metadata working group. DPO currently is gathering community comments on the model for the Subcommittee's consideration.
IIIF Subcommittee (Adam Metallo, Co-Chair)
This Subcommittee helped plan for and implement IIIF standards at the Smithsonian and formulated use cases and policy to allow more Smithsonian images available to be engaged with IIIF based tools.
Informatics Subcommittee (Luis Villaneuva, Chair)
This Subcommittee is in formation. A charter has been drafted and circulated to DPAC for comment, and candidates for committee membership are being solicited.
---------------------------------------------------------------------------------------------------------------------------------------------
In 2018, DPO staff served on several Smithsonian committees, bringing our insight, expertise, and support to bear in the following groups:
Women's History Initiative Digital Advisory Board (AWHI Digi for short)
Audiovisual Archives Advisory Group (AVAIL)
Collections Information Management Committee (CIMC)
Collections Information System IRM Pool Fund Allocation Committee
EDAN API, Content, and Taxonomy Working Groups
GUID (Globally Unique Identifier) Working Group
Smithsonian Institution Archives & Special Collections Council (SIASC)
Smithsonian Strategic Plan Implementation Team 3 ("Reach a Billion People through a Digital First Strategy")