By Jessica Warner on Fri, 12/06/2019 - 10:48
Since the Smithsonian Institution's Digitization Program Office (DPO) itself was born ten years ago, our office has hosted the biennial Smithsonian Digitization Conference (having now matured into a conference from previous incarnations as the Digitization Fair!)
After over a year of planning by DPO staff, this year's event was held in Washington, DC on October 1-3, 2019 at the Smithsonian Institution on the National Mall. Our theme this go-around was Engagement with a focus on meaningful connections with vast and varied audiences as seen through six different lenses: Entertainment, Education, Research, Accessibility, Bridging Communities, and Creativity.
We kicked things off with a one-day pre-Conference which showcased the innovative ways colleagues at the Smithsonian are engaging with our audiences through our digital collections, including work being done by the Smithsonian Center for Learning and Digital Access to enrich the Smithsonian Learning Lab, a platform for meaningful interaction with SI collections; the collaboration between National Museum of Natural History and Smithsonian Exhibits using 3D technologies to create immersive experiences with collections; and the Smithsonian American Art Museum's use of VR for the exhibition No Spectators: The Art of Burning Man. For more information check out the exhibits here:  https://dpo.si.edu/2019-digitization-conference-exhibits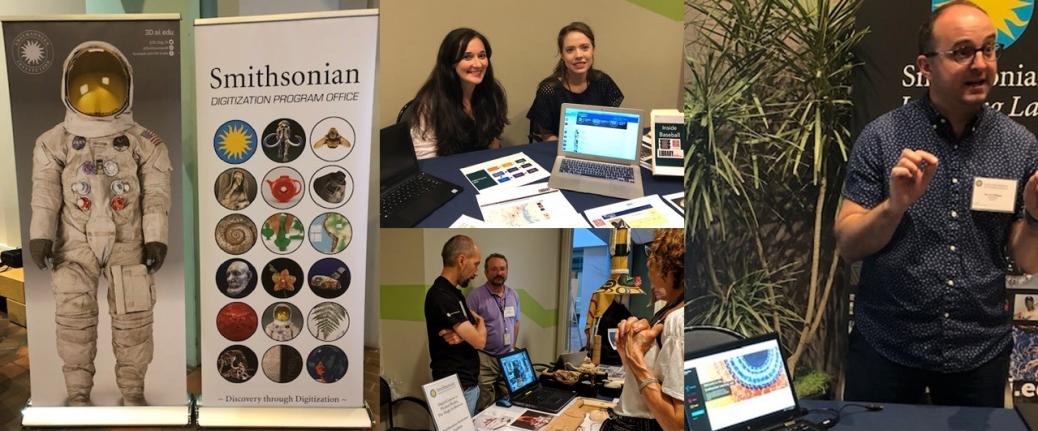 Also, during the pre-Conference, the DPO 3D team held an invitation-only workshop showcasing the new open source 3D pipeline they have been developing for processing, managing and delivering complex 3D collections objects. The workshop was standing room only.
During the two days of the Conference itself, approximately 300+ visitors from down the street (e.g. Library of Congress, National Gallery of Art, World Bank) and around the world (e.g. India, Japan, Portugal) representing a wide variety of disciplines including K-12 education, cultural heritage institutions, museums, libraries and archives, entertainment and tech industries, attended a series of keynote addresses and panel discussions.
Each day the Conference program included an opening and closing keynote address:
And panel discussions:
If you want to learn more, check out the event hashtag #SIDigi2019 and visit the 2019 Conference playlist on the DPO YouTube channel.
 Follow us @SmithsonianDPO to watch for a save-the-date for the next Conference to be held in 2021.