By J. Nault on Thu, 04/18/2019 - 11:10
In December of 2018, the Digitization Program Office (DPO) and the National Museum of American History (NMAH) started a 5-month project (well, with a government shutdown, it will be more like 6 months), to digitize 18,000 posters in the collections of the Archives Center and Political and Military History division. The posters range from recruitment posters for Red Cross nurses in WWI in the Archives Center's Princeton University Posters collection, to Get Out the Vote posters in the Political History collections from the last 10 years. The range of content and physical items – spanning 100 years of morale, conservation, volunteering, reform, propaganda and protest – makes for a thought-provoking project that explores the history and evolution of cultural, political and civic attitudes over the last century.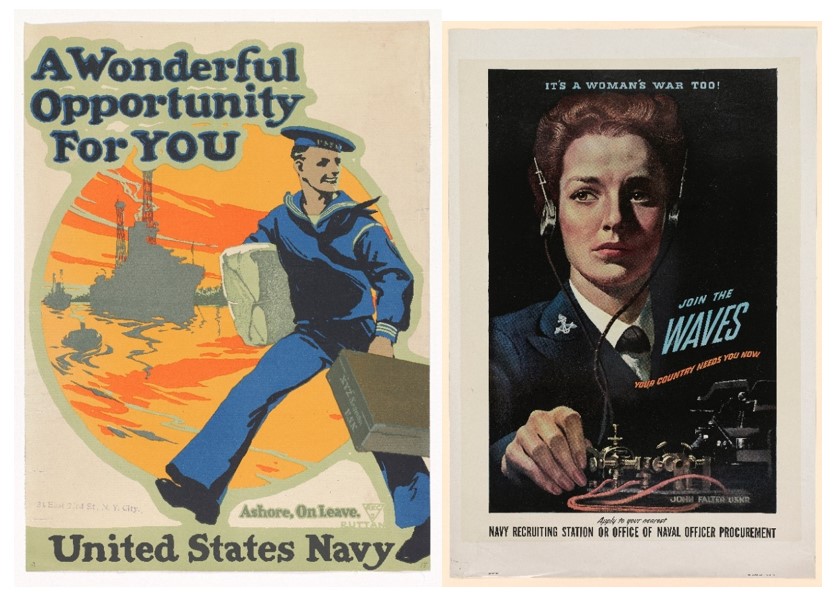 ​
Figure 1: Princeton University Posters collection, NMAH Archives Center, AC0433-0000003 (left) AC0433-0003468 (right)
The project spans 3 distinct collections, 2 production locations, and 1 brand new Project Manager in DPO. Starting with the Archives Center's Princeton Posters collection out at the Paul E. Garber facility, NMAH, DPO, and the National Collections Program (NCP), collaborated to capture over 10,000 posters in 9 weeks – an average of 250 posters a day. The posters ranged from 8 ½ x 11 handbills posted on public transportation, to 66 x 48 panels to create billboards. The posters represent one of the largest and most complete collections of U.S.-produced war posters from the WWI and WWII eras, as well as thousands of posters from across Europe, the British Commonwealth, and parts of Asia, in several different languages.
In addition to the museum and the DPO (along with our colleagues in other departments in OCIO such as DAMS and Network), mass digitization projects also entail additional collaboration with partners such as NCP, and, for the first time, Google Arts and Culture (GAC). DPO and NCP work together regularly on projects across the Institution, where NCP assists museums with collections care needs to prepare for participation in a DPO mass digitization project. This could be the funding of additional personnel for the project, such as project registrars or catalogers, as well as supplies for re-housing or item movement during the project like carts and boxes. Google Arts and Culture, in a newly formed agreement with DPO, funds direct digitization costs and is provided insight into DPO project management and workflow design. As a result, all digitized items will additionally be available on the Google Arts and Culture platform, joining hundreds of thousands of images from GAC partner cultural heritage institutions around the world.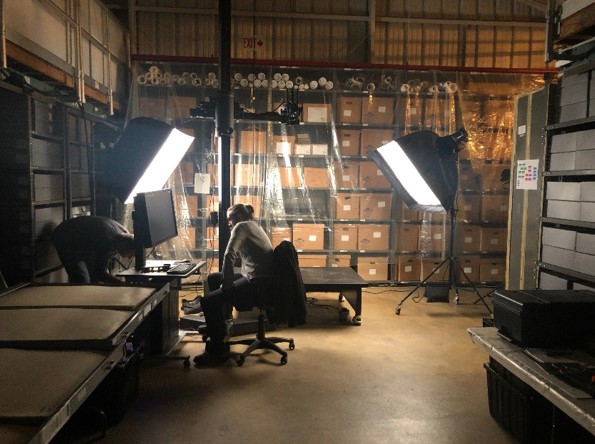 ​
Figure 2: NMAH Posters MDPP Production Set at Garber Facility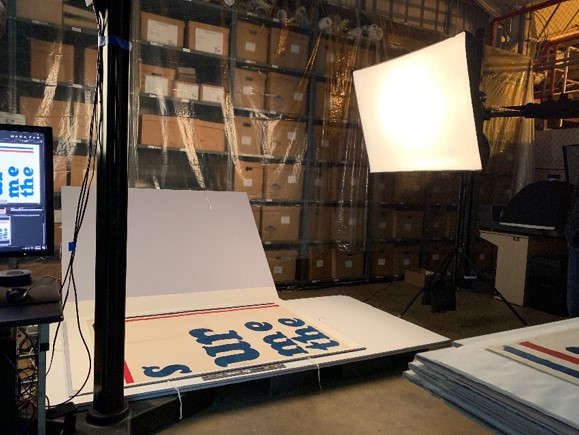 Figure 3: NMAH Posters production setup for oversized billboard posters
Coupled with the digitization of the posters themselves, DPO teamed up with the Transcription Center to crowdsource the transcription of individual catalog sheets for each of the posters in the Princeton University Poster Collection. Once digitization and transcription are both complete, they will come together to create an online finding aid with an item-level record for every poster, available through SI Collections Search and the Smithsonian Online Archive (SOVA).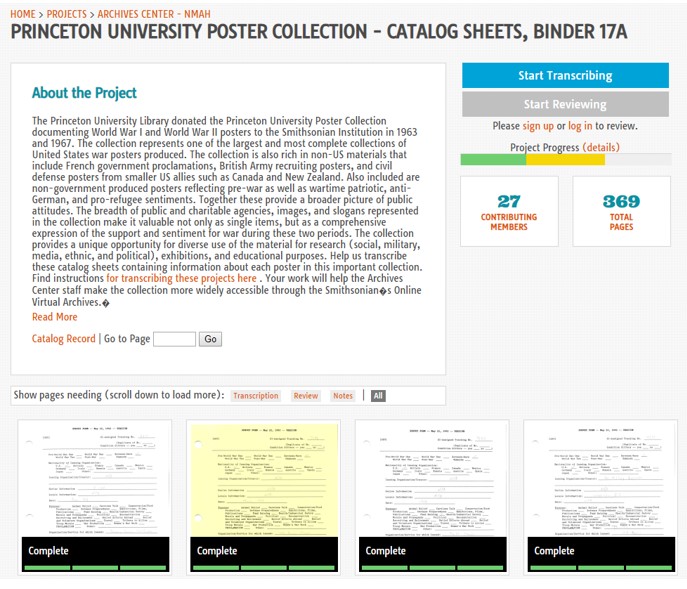 ​
Figure 4: Screenshot of Transcription Center project for Princeton University Posters collection records
The second phase of this project takes us downtown to the American History Building to digitized 8,000 posters in the collections of Political and Military History. In addition to nearly 2,000 posters from the WWI and WWII eras found in the Military History collection, the project scope will include nearly 6,000 posters in the Political History collections, including not only WWI and WWII, but Women's History, Reform, and Political Campaigns. Once completed, all posters will be fully available through SI Collections Search and the NMAH website.

​
Figure 5: Armed Forces History collection, "Concrete Ammunition," AF.74266M (left); Princeton University Posters collection, Archives Center, AC0433-0003285 (center); Political History collection, Poster, "Not Four More Years..."  2015.0200.139 (right)
The digitization of these diverse posters, across discrete collections, allows for a fuller, richer understanding of their place in history, as well as the ability to do deeper dives on data to better connect them to one another, and other collections available online.