By Ryan Hill, Director of Digital Learning Programs, Hirshhorn Museum and Sculpture Garden on Fri, 07/11/2014 - 15:46
Cody Coltharp is the 3D guru and Game Design mentor at ARTLAB+, the Smithsonian's free, drop-in digital studio for teens. Cody has a degree in mechanical sculpture from the New College of Florida and is the Art Director for Green Door Labs, a location-based gaming company that makes games for museums and schools.
How do you use 3D technology with the teens?
I use 3D technology in many ways. Teens do analogue 3D by experimenting with Papercraft, fabricating costumes for Cosplay, or using clay to model 3D characters for animation, gaming or the 3D printer.  Teens also do digitized 3D which is more conceptual then tactile. They render architecture in SketchUp, prototype 3D animation in Maya, or design characters in Tinkercad or 123D Creature. In this summer's Video Game Design Intensive, teens focus on using the Adobe Character generator to create characters that are fully rigged for animation. They can download them, animate them in Maya, and bring them into a Unity landscape that they can explore with Oculus Rift.
Do the teens use any Smithsonian 3D content at ARTLAB+?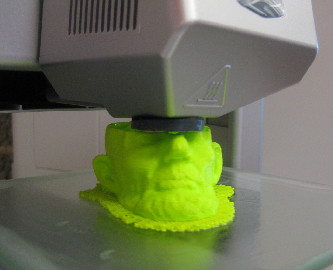 The 3D printer we've borrowed from SI 3D Digitization is really popular. Teens can be certified, or badged, to use 123D and Tinkercad to print out their own designs. They also download 3D models from 3D.SI.edu, the Lincoln death mask being their favorite. A lot of the Smithsonian's collection models are too complex with delicate parts, so we've had more success with teens using those 3D models as props in their own game designs. Through our Unity Master certification a lot of those objects end up in their own gallery in ARTLAB+'s digitally recreated Hirshhorn Museum. This certification challenges them to use their programming, modeling, and asset management skills.
What teen project surprised you the most?
I was really surprised by Akilah Padgett's T Rex. This Papercraft dinosaur took her around three months to complete. It's about 10 feet from head to tail and six feet tall standing. She then leveled-up by learning more advanced software to model a new dinosaur head (Edmontonia) in Z brush, UV mapping it in Maya, converting in Papercraft, and using Pepakura Designer to print it out and assemble it. She was picked from a global pool of teens to represent ARTLAB+ at the White House's first Maker Faire.
What are the shortfalls or barriers of 3D tech being used in education?
Technology is expensive and schools are already struggling with their budgets. There is also a lack of teacher training and, since technology is constantly changing, it's hard for teachers to stay current.  ARTLAB+ has been a great testing ground for the mentors to understand which 3D technologies work best, or are the most user-friendly, with teens and they can share this with other educators. 
Where do you see 3D tech and education going in the next 5 years?
I see 3D printers getting cheaper and being in people's homes. There will be a wider variety of materials to print with. The influence of the Maker Movement will mean more people designing their own things. So there's a potential to combine electronics with customized design to make personal, wearable technology. And with Facebook's purchase of Oculus Rift, I see augmented and virtual reality becoming a bigger part of everyday life.