By 3D Program on Wed, 12/09/2020 - 11:59
Bring the Smithsonian into your home! Our museums may be temporarily closed, but you can now interact with our collections—and share them with friends—through our new Instagram effects!
The Smithsonian is proud to announce a collaboration between five of its museums, the Digitization Program Office, and Facebook to create augmented reality (AR) effects for ten iconic objects.
Why is AR + social so powerful?
Users can bring Smithsonian objects into their backyard or living room, learn facts about them, and share photos and videos with their friends through Instagram Stories, Reels, and in their Instagram feed.
AR allows us to reach people where they are, whenever they like.  
AR offers a personal and immersive experience in their own spaces. Explore these objects up close and from angles not available in our museums. 
Compare the mammoth to your dog with your back facing camera, and then BE the mammoth using selfie mode.

Dance around your living room with platform boots worn by The Wiz in "The Wiz: The Super Soul Musical 'Wonderful Wizard of Oz'" on Broadway!

Sit with Space Shuttle Discovery on your couch and hear it blast off.

Pick an outfit to wear with a green velveteen hat designed by the legendary Vanilla Beane.
Inspired to take it a step further? All ten objects are part of our Smithsonian Open Access, which means makers can use these in their own creations without asking permission, and were built using Facebook's platform Spark AR. We look forward to seeing Spark AR creators let their imaginations run wild with our Smithsonian Open Access content. 
Visit ten highlighted objects through your Instagram app:
How does it work?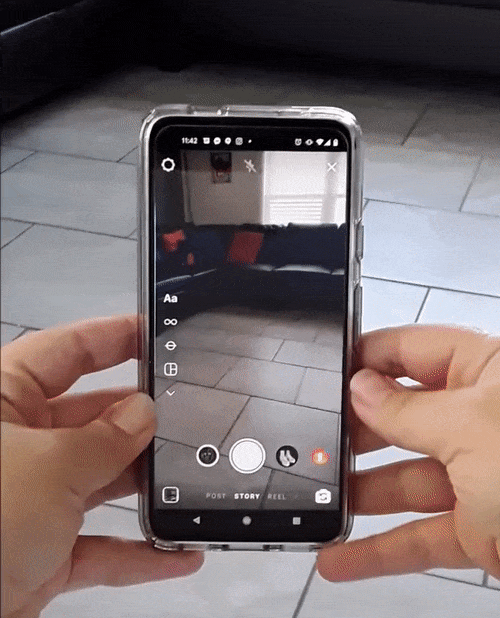 Make sure you have the most up-to-date version of the Instagram app on your mobile device.

With your mobile device, select one of the links above. These effects are also accessible through the @Smithsonian Instagram account under the "Effects" tab with a smiley face symbol. 

The Instagram effects will immediately open, and you will be prompted to move your phone around and tap an open area, like your floor or a tabletop. This allows your device to scan the environment and find a suitable area to place the AR object. 

Some of the experiences also have selfie mode! Make sure to tap the icon to turn your camera around while you're looking at the mammoth and Vanilla Beane hat effects.
Curious to learn more? 
Tap the numbers on each effect to reveal factoids that point to details you might miss on each object. Spot the signature on the telegraph? The thermal tiles on the Space Shuttle Discovery? Post your augmented reality experience for friends to see with the hashtag #ARtifactsAnywhere and share your favorite factoid.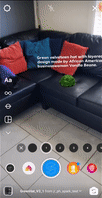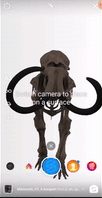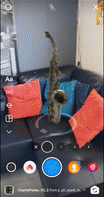 ---
What's next for AR and the Smithsonian?
The Smithsonian is exploring how we can leverage AR technology to further our educational mission and connect with new audiences. In addition to the Instagram effects, we have added AR support to our open-source viewer Voyager using the open webXR standard. Read more in this blog post. In the future, we hope to explore how AR technology can be used to enrich physical exhibitions with virtual information overlays, and experiment with AR in browser-based experiences using webXR. Seeing new phones ship with LiDAR sensors that enable more realistic AR experiences, we know more exciting things will be happening in this space. We can't wait to see what this technology holds for the Virtual Smithsonian!
If you like these Instagram effects, or have other ideas about how you'd like to engaged with Smithsonian 3D objects next, please let us know at OCIO-DPO@si.edu